Email Append
Add more to get more customers!
Are you losing out potential business opportunities due to incorrect or missing email data? On an average 3 to 6 percent of business email address become undeliverable in a month. This means one third of your email communication doesn't reach your customer or prospects.
Regardless of the current state of your database, Sober Technologies Email Append process provides an effective way to add valid email address to your database. During email appending service, we scan your customer database against our master database, any exact data match located while scanning is appended to your database.
Sober Technologies email appending service adds verified and permission based contacts to your database. We achieve append rates of 65 percent and more on business email address, thereby expanding the database.
Adding fresh email address to your business enables you to
Connect with more customers/prospects through email campaigns
Reduce the cost of marketing by leveraging cost-effective email channel
Execute targeted email campaigns instantly to promote products or services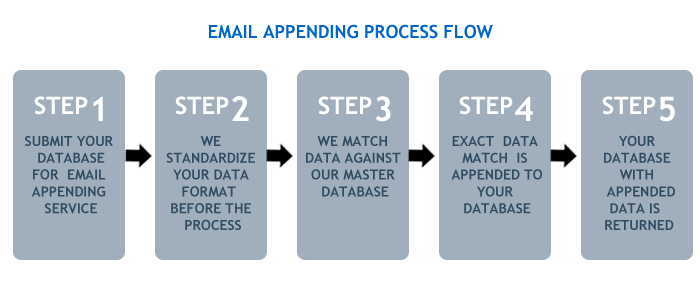 Why Sober Technologies for Email Appending?
We test the accuracy of each email address before appending
Flexible pricing plan based on your budget
Faster turnaround time of 5 to 7 business days depending on the project
Want to get started? Fill the contact page with your requirement.
Do you have questions on email appending? We want to hear from you. Call us to discuss your needs or request a FREE Quote for our email appending services.