B2B Technology Leads
Who needs B2B Technology Leads?
Any B2B organization looking to capture virgin markets, expand their business reach globally, and target decision makers needs B2B Technology Leads.
B2B Technology User's Data is Required By: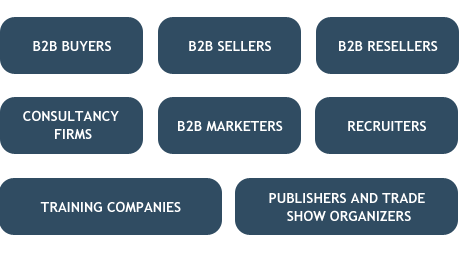 Most Authentic Data Source:
Tradeshows
Government records and listings
Annual reports & public filings
Business and trade magazine subscriptions
Yellow Pages
Opt-in email campaigns
Surveys and feedback forms
B2B Technology Leads helps businesses fulfill their sales and marke information about companies ready to purchase
Counts : 537,456
double opt-in
Formats Available : XLS and Text
Deliverability Guarantee : 90%+ for Direct mails, 85%+ for Tele-contacts and 65% to 75% + for emails
Available fields : Name, Email ID, Company name & Address, Company Size, City, State/Province, ZIP/Postal Code, Phone and Fax and NAICS
Leverage the benefits of B2B Technology Leads and drastically reduce marketing costs!